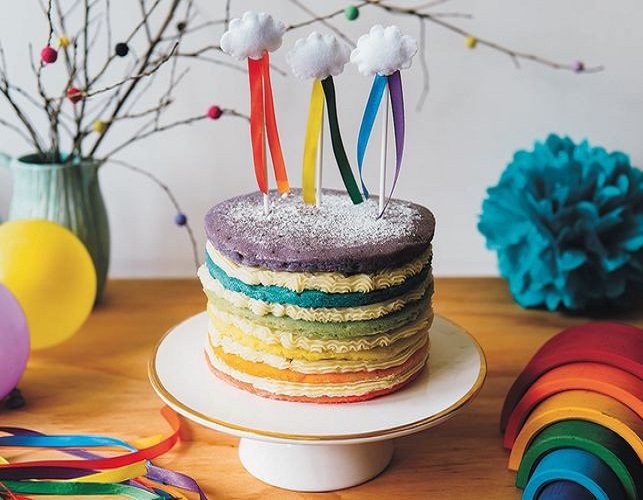 Children love rainbows. They get excited when they are presented with rainbow color cakes, cookies or frozen treats.  Therefore, its always a successful idea to include a rainbow cake on your child's party food menu.
When selecting the perfect rainbow cake for your child's party, you will need to decide if the cake will be frosted or naked.   Many children love frosting, especially when its rainbow colored, on their cakes.  Many on the other hand, would much rather have their cakes unfrosted, or natural, straight out the oven.
I recently discovered a beautiful, natural, rainbow cake with frosting filling that would satisfy both the child who likes frosting and prefer cakes natural over at Kidspot who said:
The rainbow birthday cake has become very popular for kids in recent years, and it sure looks impressive! This is an edited extract from 'Let's Party' by Martine Lleonart.
You can read the full article and get the recipe here
You can also find additional rainbow cake ideas and recipes by visiting the following resources:
Betty Crocker Rainbow Layer Cake
Bake for Happy Kids: Rainbow Kids
We hope this selection of rainbow cake resources helps you discover the perfect recipe to make a magical cake for your child's birthday.
We'd love to see your finished rainbow cake creations! Post your rainbow cakes on our Instagram, Facebook or Twitter – and don't forget to use the #BakeARainbow hashtag and tag any NHS workers you know to show your support for them and enter them into a prize draw to win their own rainbow cakes