Help Choosing Your Baby Crib Bedding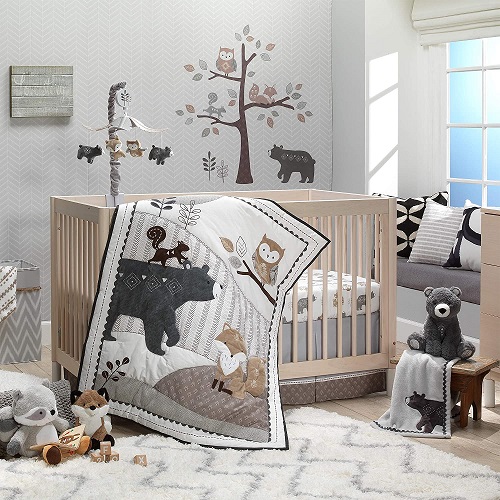 One of the items at the top of most new parents' to-do list is furnishing the nursery. Interior decorating for the infant has come a long way from pastel blues and pinks. The same can be said for boring beige tones as well. A neutral color scheme doesn't have to send a visitor into a catatonic state of boredom when they step into the baby's room.
In any case, a baby is hardly the intended target of any color scheme for a nursery. Pleasant interior decoration is a way for new parents to assure themselves that they've carried out their parenting duties properly. As far as the baby is concerned, it's far more important to consider the baby's bedding instead of paint colors.
One of the most important aspects to consider when it comes to picking out bedding, aside from soothing colors, is safety.  A firm mattress is a must to prevent the baby from getting tangled up or suffocated in his or her sheets and blankets. Material for baby bedding needs to be light, yet be able to keep a baby warm. Additionally, bedding made from natural materials is often better than those made from synthetics, as the latter may laden with chemicals that can irritate a newborn's sensitive skin.
Another aspect to consider before arguing over whether John Deere baby bedding is better than that from Disney is to settle on a budget. The temptation to buy every baby product in sight can be overwhelming and near irresistible, so it's best to count to ten first before doing anything else. It helps if both parents draw up a list of items they wish to purchase. Very often, the items on this list can be neatly divided into those that are essential and those that merely would be nice to have, i.e. superfluous. After all, do you really need his 'n' hers rocking chairs when one would do just fine? Once unnecessary items have been eliminated, you can decide how much you're willing to spend for each item. This will make shopping much easier.
Settling on a gender-neutral color scheme might be much easier if the nursery was furnished based on a central theme. For instance, a pastoral-themed room would be suitable for both a boy or girl child. Smaller items like John Deere baby bedding are available in more gender-specific colors that complement the overall color scheme of the room too. What does a pastoral decoration scheme entail? Think greens, blues with dashes of yellow and red thrown into the mix. A very obvious idea would be to paint a mural of a farm scene, complete with a matching mobile over the crib.
There's nothing that comes close the frenzy into which parents go when they learn a baby is on the way. Between breathing and birthing classes and visits to the obstetrician, it's amazing how would-be parents find the time to transform their house in a safe and child-friendly home.