Easily, Decorate a Festive Kids Table for Thanksgiving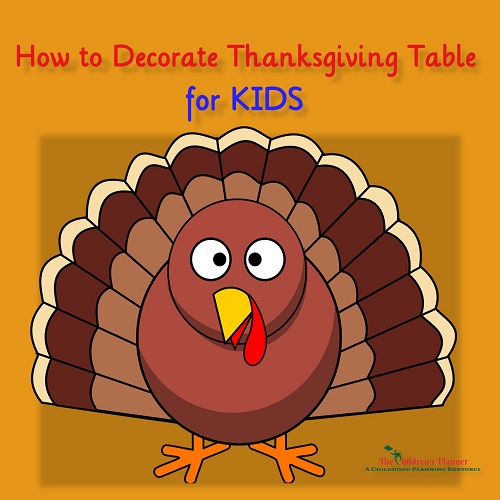 Celebrating Thanksgiving always invokes a sense of excitement and fun for kids.  They look forward to seeing their family and friends gathered together to enjoy a traditional Thanksgiving meal.  Then comes the dreaded "you are a kid so you have to sit at the kids table" moment.  Kids dislike sitting at the kids table because they are often excluded, positioned off to the side of the room away from the adults, rarely look as pretty as the family table and, well, is not fun.
When you are a busy parent who has to prepare Thanksgiving dinner, decorate the family table and make the house festive, tackling the added task of decorating a kids table may seem overwhelming.
To help you, quickly & easily, decorate a fun Thanksgiving kids table, we have put together these great ideas for your design inspiration & guidance.
What You'll Need to Decorate a Kids Thanksgiving Table
Small Table with Kid Size Chairs
Thanksgiving Table Cloth
Thanksgiving Napkins
Cutlery
Thanksgiving Paper Plates & Cups
Thanksgiving Centerpiece
Activity Place Mats
7 Ideas for a Festive Kids' Thanksgiving Table
7 Design Tips for the Perfect Kids' Thanksgiving Table
Use a small foldable table
Make kid size food
Serve their favorite dishes
Use kid appropriate dinnerware
Include activities to keep them entertained
Use fun decorations
Personalize table settings
Designate half an hour to put it all together.
Its always special when kids enjoy thanksgiving as much as the adults.  One special way to do this is to decorate a beautiful & festive table for them.  It's also is wonderful way to symbolize the importance of Thanksgiving to the future generation.