How To: DIY Christmas Cards with Your Toddler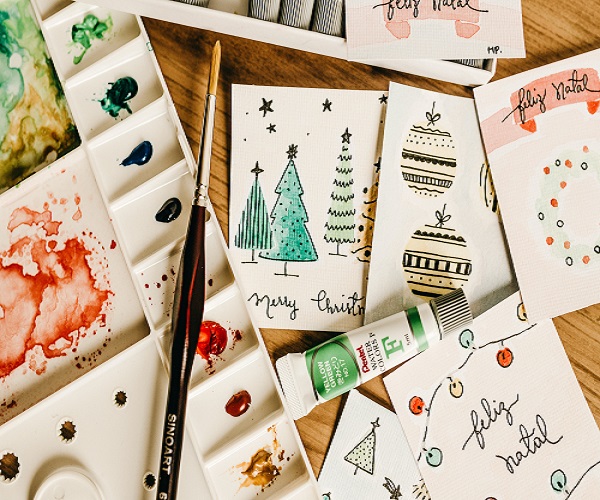 How To: Craft Cute Christmas Cards with Your Toddler        
It will soon be that most wonderful time of the year, and you may be starting to make your list of Christmas craft projects. It's a good time to start thinking about how to reach out to those that you might not see this festive season; and to find thoughtful ways to show them how much you care… from a distance.
Homemade Christmas cards always speak volumes, and if you have a small child there is no reason why they can't join in and help make your season's greetings even more special. Getting the family together to make some cards is a great way to kick off the festive season – and a great way to sneak in some learning opportunities, too!
Put on your favorite Christmas tunes, nibble on some gingerbread and gather round to enjoy this collection of toddler-friendly homemade Christmas card ideas…
Fancy Foot Work
Who doesn't love a cute footprint? Footprints – and handprints – are a great starting point for a whole range of Christmas card design ideas. Make a tradition of it and your family will have a lovely keepsake that charts the growth of your little one. They're also a really nice, rather literal, way to reach out to those you care about. Try two handprints on a long concertina card to send a postal 'hug' – make it festive by turning the concertina into elf arms (think red, green and white stripes). The prints can also be drawn on to create a wide range of quirky designs. Arty Craft Kids have some great ideas to get you started.
Worried about the mess? Keep an eye out for mess-free ink-pads which can take the stress out of hand and footprints (and are still lots of fun).
Paper Parade
If your toddler loves to splash paint around or to think BIG, paper collage is a great way to add their touch to your homemade Christmas cards. Let them decorate lots of papers which you can then cut up and use as collage materials. This works best if you limit their color choices for each sheet.
Make it more memorable by scaling up – rolls of lining paper covering your floor give endless opportunities for the kids to get creative. Supply them with brushes, stamps, rollers and Christmas shaped cookie cutters to explore pattern and shape making. This example from Life at the Zoo shows just how effective cookie-cutter stamping can be.
Once their fabulous collage papers are dry, cut them up to create your card designs. If you need lots of cards it's really easy to make more if you create a template from your design.
As a bonus, extra paper can also be used for gift wrapping!
Sticker and Shine
Toddlers and stickers go together like Santa and Rudolph. Playing with stickers helps to develop fine motor skills, concentration and decision making – as well as being loads of fun.
You don't need fancy stickers to use them to create Christmas cards with your toddler. Simple dots or stars look great decorating a tree or a gingerbread man. If you fancy something a bit more glam, gemstone stickers make stunning yet simple cards, like this design from Childhood 101 magical reveals.
Magical Reveals
Make your efforts work double-time by designing a card with a reverse out. A card with a fun shaped window gives you lots of design options – plus you get to use the shape that you cut out too. Rhythms of Play have this nice tutorial rhythmsofplay.com/reverse-fingerprint-christmas-tree-card for using shape cuts outs and their reverses to make lovely cards with fingerprint paintings.
If you like the idea of a hidden design that is revealed for your child you could try the wax resist technique. Draw on a card with white wax crayon and when you paint over with water color, the design becomes visible. This makes especially lovely night sky designs. Visit Access Art for inspiration
Let Rip
Great for more boisterous children, let them add texture to your Christmas card designs with ripping! Small paper pieces can be used as leaves on a Christmas tree or feathers on a robin. Check out these ideas on Fantastic Fun and Learning. Larger pieces look great as snowy hillsides – layer over a blue sky and draw on a forest of trees for a festive scene.
Inspired? If you're still not feeling creative, why not have a dress-up session and take some photos for some fab personalized photo card? There are lots of ways to get our toddler involved with your homemade card projects this Christmas, have fun getting creative together!