Easter Celebrations – Adding Meaning to Your Holiday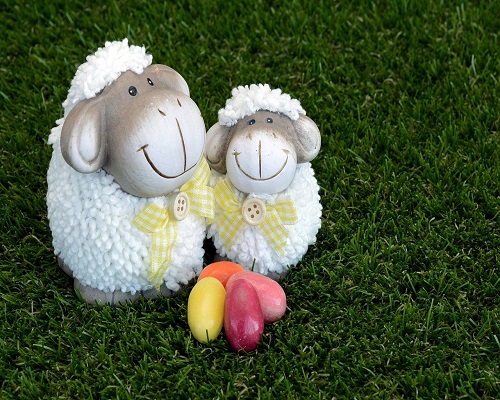 While Christmas gets all the attention, Easter is actually the holiest day on the Christian calendar.  The meaning can get lost among, the chocolate bunnies and Easter eggs, but there are ways to add meaning to your family celebration of Easter.
The best Easter traditions provide children and adults alike with a sense of wonder, awe and rejuvenation.  As we watch the earth spring back to life after a long, cold winter, the whole family can join in the celebration of renewal and rebirth.
Some of our favorite ideas for creating new family Easter traditions include:
Ask the kids to create personal drawings, sculpture, collage showing what Easter means to them.  Display each new creation, along with creations from past years, in a place of honor in the home.  Take photographs of each new work, and use them to create a special holiday scrapbook.
Create a kindness wreath.  This is one of our favorite holiday traditions.  Starting a week before Easter, give each member of your family a number of brightly colored ribbons. Each time that family member performs an act of kindness, he or she ties a ribbon onto the special kindness wreath.
Make a kindness basket for a lonely neighbor.  Fill an Easter basket with treats, handmade cards, gifts and treats, then leave it on a neighbor's doorstep anonymously.
Have your kids create special Easter baskets to give to nursing home residents and hospital patients.  Have the children create special homemade cards and simple gifts, then let the kids present the baskets to those in need.
Make an audio or video recording of your kids singing their favorite seasonal songs.  You can even use those recordings to make fun compilation CDs as gifts for grandparents and other family members.
Have the kids make their own special Easter cards to give to family members and friends.  You may even want to host a special card making party where your kids and their friends can gather to share imagination and make some great cards.
This is of course only the tip of the iceberg when it comes to special Easter traditions. The fact is there are as many special Easter traditions as they are families to enjoy them.  Whether it is a special Easter egg hunt on the front lawn or a special Easter brunch with family and friends, there are many ways to make an already special time of year even more special and meaningful.

Mystery Easter Egg BucketGreen – $30.00
from: Dylan's Candy Bar