Kylie Jenner's Daughter Stormi is a Cover Girl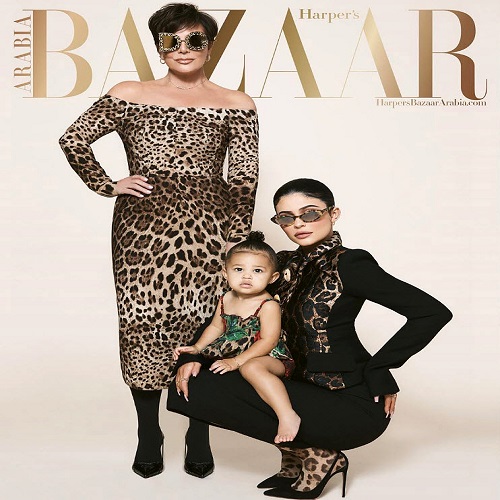 Stormi Webster, her mother Kylie Jenner and her grandmother Kris Jenner were featured in one of three covers for the July/August issue of Harper's BAZAAR Arabia publication leopard-print outfits.
This marks the 17 month old, Stormi Webster as an official cover girl having secured her first magazine cover shoot.
In the accompanying interview, Kylie discussed how her "perspective on life completely changed" after giving birth to her daughter. "I look at my own mum and appreciate all the things that she's done for me," she revealed.
She went on to say, "Now I can understand the way that she feels about me, the way that she loves me, and how strong her love is for all her kids, because of how obsessed I am with Stormi."
Kris emotionally responded, "I'm obsessed with you, Kylie!"
Kris also explains, "We've always been very connected emotionally and spiritually and have this incredibly strong bond. But I think as we both get older, our relationship shifts a bit. And for me, I just want her to know that I'm always here to guide her and help her with whatever she needs, rather than it always being, you know, the way it used to be back in the day. Our relationship changes every few years."
Kylie was proud to share all three magazine covers on her social media where millions of followers liked and commented on them.
The bond between mother, daughter and granddaughter is clear.